RPG DICE - 50% off! On Selected Dice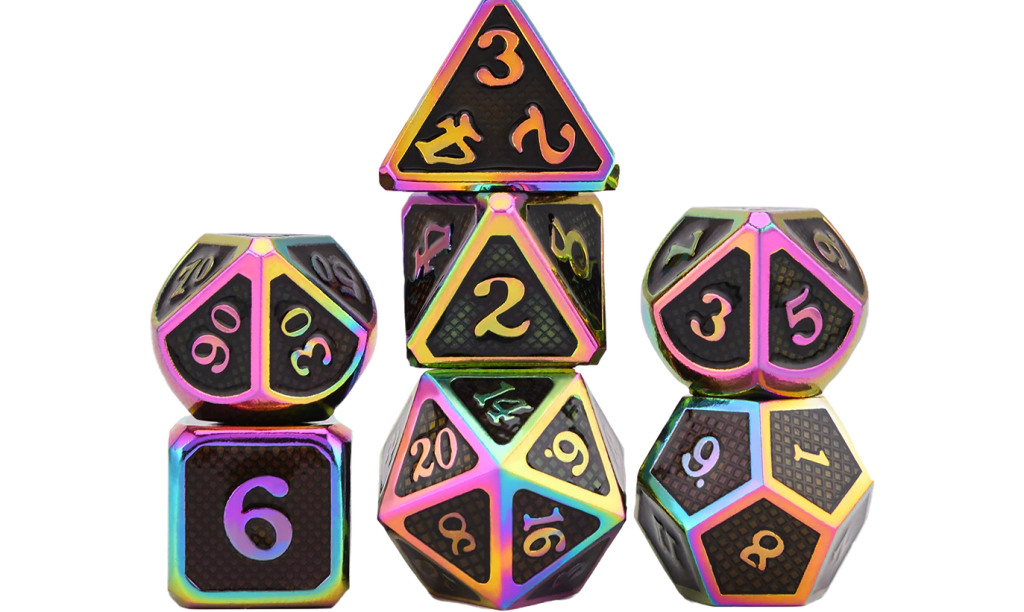 Shop a wide range of RPG dice; we stock both RPG metal dice and polyhedral dice set both can be found in a wide range of colors and finishes.

We ship all orders within 24 hours! All of our orders are tracked and insured for added peace of mind.

Our customer support is second to none – users rave about how we don't rest until every issue is solved to their satisfaction.

With 128-bit SSL security with advanced encryption you are guaranteed that your purchases are safe.
We Stock the best dnd dice sets and the best prices
We have the best prices on Dungeons and Dragons dice and other rpg dice sets, if you can't find what you're looking for, please feel free to contact us for advice.
Welcome!
Welcome to RPG Dice.co.uk, the best place to find and buy DND (Dungeons and Dragons) dice! We stock both metal dice and polymer dice along with a variety of other dice styles and finishes. If you're looking for an amazing, unique DND dice set or simply want your next RPG dice set, then you are in the right place. 
It doesn't matter whether you're a wandering gamer or an advanced game master! Browse our shop – we are sure you'll find what you are looking for!
All Dice sets found in this store are weighted and balanced. Also, as a special retailer aimed towards RPG gamers, it should not come as a surprise that all of our RPG dice sets is offered in the following format: 1 x D4, 1 x D6, 1 x D8, 1 x D10, 1 x D12, and a 1 x D20 die.
RPG Dice.co.uk has been supplying RPG dice to a variety of customers all over the globe since 2019. We take pride in our craftsmanship and therefore all dice sets are checked for any quality issues prior to shipping.
Do you have other RPG in mind?  The majority of our unique DND dice sets are suitable for other RPG games regardless of game rules and style. We often meet players using our dice from Dungeons & Dragons (D&D) in Pathfinder, Arkham Horror, Magic the Gathering and Warhammer!
In addition to our selection of metal dice sets and polymer dice sets, we also offer a wide range of RPG accessories for the RPG enthusiast, such as our must have handcrafted dice storage bags. Made from double-layered velvet and suitable up to 100 dice.
Unique DND Dice sets
We not only offer you the best deals on metal dice and polymer dice, but we also offer friendly and helpful customer service, We are just as much a gamer as you are a customer, If you are unsure which dice are best for your style of game or character, simply ask us and we will give you our best advice!
In addition, RPG Dice is much more than "just another dice shop": We make truly unique metal dice that are both highly detailed and exclusive to our dice network! As a dice producer all of the D&D dice, metal dice and dice sets sold directly by us are covered by our manufacturer's guarantee, everything is covered whether it's our unique DND dice sets, regular DND dice or a single D20 die.
We take the craftsmanship of our DND dice very seriously and we are sure you will notice the difference in weight when compared to other brands.
Our unique DND dice sets are all designed in-house by our own artists and manufactured at our factory in HK. Thus, RPG Dice can offer a large selection of D&D dice made of either polymer or metal. Browse through our extensive range and buy at affordable prices. By the way, did we mention that we ship worldwide at flat rates?
Grab this amazing DND Metal Dice Set today at 80% OFF!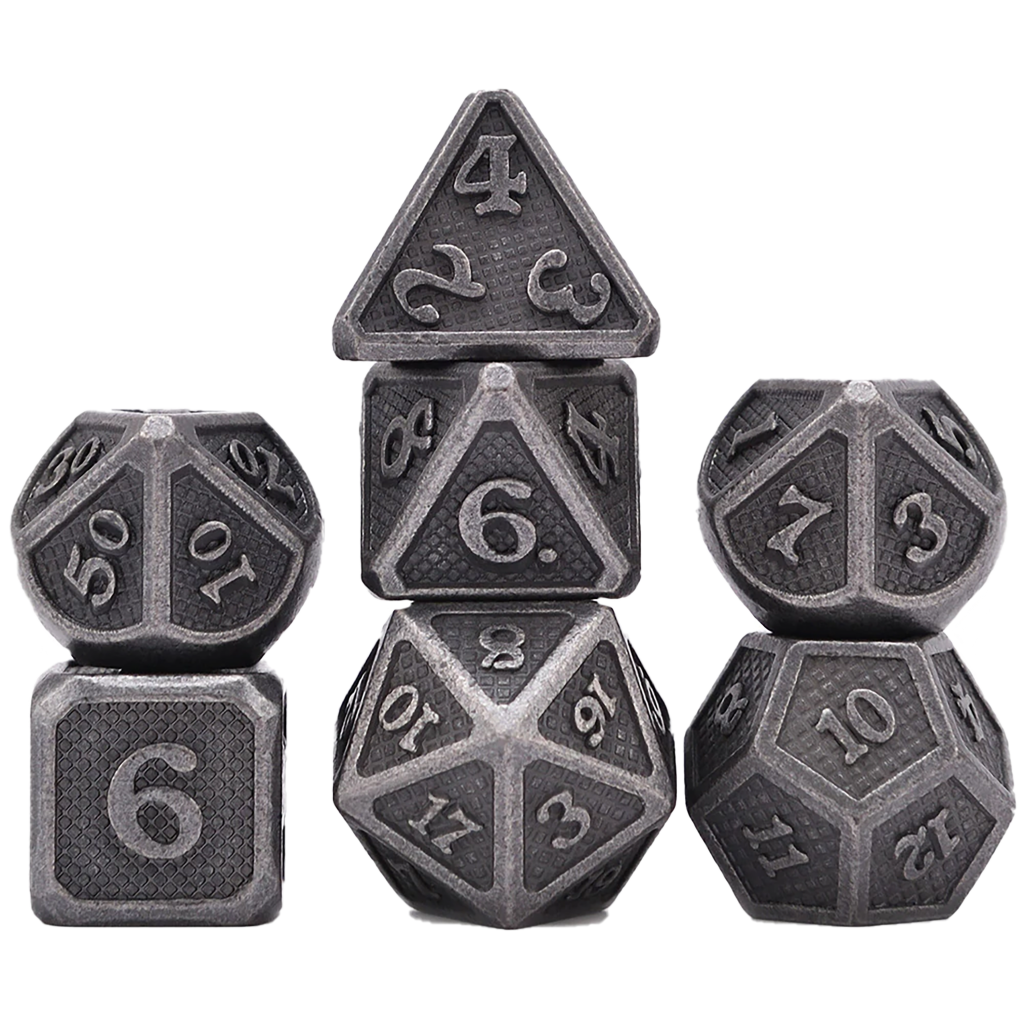 Our most popular products
METAL DICE
Our shop offers a wide range of metal dice that are of the highest quality; some of our dice sets are even handmade! Our range includes metal dice sets with extra rounded corners that allow for a smoother throw, to sets with larger numbers for players who prefer more legible dice sets. Metal dice are the perfect addition to any Dungeons and Dragons fan's collection. While they don't roll as far as polyhedral dice and can tear a piece out of your table if you're not careful, the throw they give is even better than their looks and justifies the upgrade. On a side note our Metal dice tend to be more unique than polyhedral dice simply because of the way the metal can be manipulated and changes depending on the materials used its also amazing at conducting other finishes such as chrome. So your next metal dice set could be very simple, yet sleek set of copper dice that wouldn't look out of place in a high elf's library, to our dragon rage dice perfect for a barbarian. If you're looking for your next metal dice set be sure to take a look at our dnd dice rolling set trays in order to protect your valuable tables, we stock a vast range of dice trays in both pu leather and standard leather.
DnD Dice
Dungeons and Dragons Dice are used for a variety of actions in Dungeons and Dragons. Whether you're rolling the dice to heal your fallen party member or trying to climb the fortress wall, you'll need your trusty DnD dice by your side. There are seven dice that are used in the game: D4, D6, D8, D10, D%, D12 and finally the D20. The D20 will be the RPG Dice you use the most, as the throws it delivers are used for both attack hits and skill rolls. The D4, D6, D8, D10, and D12 are used for weapon damage, with the D4 also being used for healing spells. The D% can be used to calculate a percentage throw, this is paired with the D10 in use. The D10 stands for the units column in the percentage, while the D% fills in the tens column. All of our sets consist of a D4, a D6, a D8, a D10, a D12 and a D20, the BWG sets also contain a D10 that can be used for percentage rolls. All our sets are perfect for new players and existing Dungeons and Dragons players alike, with one of our sets you'll be ready to mount your steed and travel into the sunset! Or to run to the next tavern because you don't have enough gold for a horse (it happens)…
D&D DICE SET
Finding the best D&D Dice Set (Dungeons and Dragons dice set) could be tough, so we've put together an impressive selection of RPG dice bundles. All of our bundles offer multiple Dungeons and Dragons dice sets that are perfect for both groups and dice collectors alike. We stock  a number of various sets of dice that are a must-have for any hungry DnD dice set adventurer. You can choose anything from our cheaper plastic dice to luxurious metal dice, the choice is yours. Some of our RPG dice even have special features such as glow in the dark finishes or unique color gradients. We have customers who decided to buy a new dice for d&d based on certain character choices. because they feel that the RPG dice are part of the fate their characters have. While some buyers have a set that will take them through lots of games, others hoard all the dice they love to look at, and there are plenty of great looking dice out there.